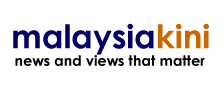 PKR de facto leader Anwar Ibrahim today lodged a police report against police chief Musa Hassan and attorney-general Abdul Gani Patail for allegedly fabricating evidence in his trials 10 years ago.
Anwar arrived at the Selangor state police headquarters in Shah Alam at about 2.50pm, accompanied by his lawyer Sankara Nair.

Four of his party leaders, including vice president R Sivarasa and treasurer William Leong, had arrived much earlier at about 2.20pm and waited for Anwar to come to lodge the report.

Outside the station, several other party leaders, including two of PKR's MPs N Gobalakrishnan and Yusmadi Yusoff, were disappointed that they weren't allowed into the station to accompany Anwar to lodge the report.
Even Anwar's daughter Nurul Izzah was not allowed into the station, creating some tension at the entrance. The police said that they would only allow five people in to lodge the report.
Some 30 supporters had also gathered outside the station.
After some 30 minutes, Anwar left the station - at about 3.20pm - to the PKR headquarters in Tropicana, Petaling Jaya where he is expected to hold a press conference.
The 'black eye' incident
Anwar had earlier said that he had evidence implicating the inspector-general of police and attorney-general in the misconduct, including fabrication of evidence in the cases launched against him after his sacking from government.


At that time, police chief Musa was the investigating officer of the charges against Anwar while AG Gani Patail was the chief prosecutor.
According to the police report lodged at 3pm today, Anwar alleged that both Musa and Gani were involved in fabricating evidence over the 'black eye' incident.
On the night Anwar was arrested on Sept 20, 1999, he was brought to the national police headquarters in Bukit Aman where the former deputy premier was beaten by then police chief Abdul Rahim Noor (
above
), resulting in a black eye and injuries to other parts of his body.
Anwar said he lodged a police report on the assault seven days later and this was investigated assistant commissioner of police Mat Zain Ibrahim who submitted his findings and the investigation paper to then attorney-general Mokhtar Abdullah and his team, which included then prosecutor Gani.
"The said investigation paper concluded that Rahim Noor was the perpetrator of the assault on me. The said paper reached a conclusion after a thorough investigation which included medical reports by Hospital KL forensic specialists such as Dr Ab Halim Mansar and Dr Zahari Noor and statement from at least 60 witnesses. The medical reports concluded that the injury inflicted on me was consistent with an assault," said Anwar in his police report.
Second medical report 'fabricated'
However, Anwar claimed that instead of accepting the report and proceeded to prosecute the police chief, Mokhtar - in collusion with Gani (
left
) - asked another doctor, Dr Abdul Rahman Yusof, to allegedly fabricate a second medical report.
"It is an undisputable fact that Dr Rahman's report in relation to the assault on me were done without actually even examining me at any time," said Anwar.
Rahman's report cast doubts on earlier medical reports by other doctors. In contrast to these reports which concluded that injuries were the direct result of a savage beating, the second medical report contained "false and incredible conclusions", said Anwar.
According to Rahman, "the pattern and nature of the injuries are not consistent with a direct blow", "accidental nature of the injuries could not be ruled out" and "self-inflicted nature of the injury should be considered".
When Mokhtar (
left
) said at a press conference - which was held more than three months after the assault - that the police investigation failed to identify the person responsible for Anwar's injuries, a public outcry eventually forced a royal commission to be set up.
The royal commission, which was headed by former chief judge of Malaya, the late Anuar Zainal Abidin, eventually determined that Rahim Noor was the culprit. He was subsequently confessed to the crime and was sentenced to two months' jail.
Musa and Gani were there
Anwar said he believed both Musa and Gani were present in Bukit Aman on the night he was assaulted by Rahim Noor and that both had "concealed" the assault.
"I believe both Musa (
left
) and Gani Patail were actively involved in the procuring of the second undated report by Dr Rahman..." he said.
Anwar called for a fresh investigation into the alleged fabrication of evidence, which is an offence punishable up to 7 years' imprisonment.
"I ask that all the persons who are implicated in the procuring of this second report by Dr Rahman, i.e. Gani Patail, Musa Hassan, Dr Rahman and Mat Zain Ibrahim, be investigated thoroughly so that the truth is known and the offending individuals punished."
Anwar also highlighted that this was not the first time that Gani had been accused of allegedly fabricating evidence.
In one of his court cases, a Federal Court judge had alluded that Gani was involved in trying to get a potential witness, KS Nallakaruppan, to fabricate evidence against Anwar.
Later tonight, PKR plans to hold a rally at the Stadium Melawati in Shah Alam, scheduled to kick off at 8.30pm.