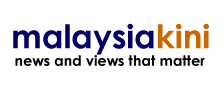 The United States said today it would oppose any politically motivated investigation or prosecution of Malaysian opposition leader Anwar Ibrahim facing fresh sex misconduct charges.
Anwar is being investigated over new allegations of sodomy, Malaysian police said on Saturday, the same charge that saw him jailed six years until 2004, when the charge was overturned.
The former deputy premier accused the government of concocting the new sex claims by a 23-year-old male aide and had briefly sought sanctuary at the Turkish embassy in Kuala Lumpur on Sunday, saying he had received threats and feared for his life.
"The main point for us is that the rule of law needs to stand above politics," said Tom Casey, spokesman for the US State Department.
"And we would certainly oppose any use of law enforcement or judicial procedures for anything other than legitimate purposes of the law," he said.
Noting that Anwar had previously faced similar charges and that his conviction was ultimately overturned, Casey said, "So, we would hope that there's not a pattern here.
"But, certainly, we would be concerned that anything that is done be done in a way that is appropriate, that is a legitimate investigation of charges that might exist under Malaysian law, and would not be anything that was a politically-motivated investigation or prosecution," he said.

A repeat of '1998 fiasco'
The new charges erupted after Anwar stormed back into Malaysian politics in March general elections that handed the opposition a third of parliamentary seats and five states.
Since then, Anwar has said he is poised to form a new government with the help of defectors from the ruling coalition, undermining Prime Minister Abdullah Ahmad Badawi, who has faced repeated demands to step down over the polls debacle.
The charismatic opposition leader said the new charges would be "a repeat of the 1998 fiasco" when he was hit with the sodomy and corruption counts that were widely seen as politically motivated.
Anwar said he was targeted again because he had evidence that the police chief and attorney-general had fabricated evidence in the original sex trial.
Premier Abdullah denied any involvement in the new charges.
"We had no plans to do anything to him just because he says he's made a political comeback," he said.
Malaysian Criminal Investigation Department chief Bakri Zinin said Anwar's aide had personally written the report against his boss detailing an incident at a condominium in an upmarket Kuala Lumpur suburb of Damansara.

Meanwhile, Deputy Prime Minister Najib Abdul Razak denied that the case was politically motivated and told Washington to get its facts right.
Speaking to reporters after chairing a meeting in Parliament today, he said: "It is not politically motivated. This has never been politically motivated at all. It never crossed our minds and Washington better get their facts right."